Restaurant & Bar
Hotel Ariston Molino Buja


"You will be delighted by our choice of specialities, including international dishes and both Mediterranean and regional recipes. We use healthy, fresh produce sourced from local suppliers. We offer a fast, expert service, both for those in search of quiet and privacy and for larger groups."
Do you want information about the restaurant?
The Simple Flavours Of Mediterranean Cuisine
Lunch and dinner are served in our stylish dining-room adorned with chandeliers, with a choice of different dishes every day. Grapefruit with Maraschino, spaghetti with clams, guinea fowl, turkey, fish soup and grilled meats are accompanied by local cheeses and DOC wines.
For those on a diet, we have a selection of low-calorie menus designed with the help of doctors from the Treatment Centre, and we can always prepare gluten-free dishes for coeliac guests.
Half board or Full board solution
You can request either a half board or full board solution, with a different choice of 4 tasty dishes at every meal. In addition to this great variety of recipes, we also offer a selection of salads and appetizers, and a delicious dessert buffet in the evenings.
Ideals for groups
The spacious dining-room with its long tables make it the ideal choice for eating out in a group, including sports teams, associations, friends, or any other occasion when members of a family or a business get together. You can reserve space in our private restaurant.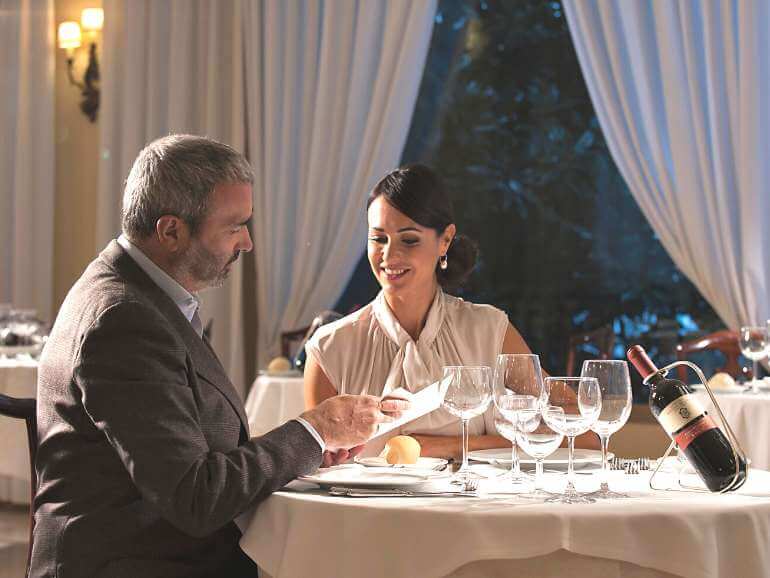 A la carte restaurant
Our kitchen is always happy to prepare original, freshly-made dishes for those gourmets among our guests. For a small supplement (depending on the type of dish), you can enjoy one of the extra specialities attached to the menu of the day.
New breakfast room
Breakfast is served in the breakfast room on the first floor, and on the newly refurbished veranda overlooking the grounds with Montirone in the background.
Continental Breakfast: A Delicious Start To The Day
The sweet and savoury buffet is a real feast for the eyes, and includes freshly-baked treats such as tarts, plum cake and focaccia, plain croissants or brioches filled with jam, white, wholemeal, salt or multi-cereal bread, hazelnut cream spread, plain or fruit yoghurt, cereals, fruit salad, fruit juices, cold meats and scrambled eggs.
Breakfast is self service but the waiters will serve coffee at your table on request, or if you prefer you can ask for breakfast in your room.
At breakfast too, you have the chance to order various special dishes prepared on the spot, with payment of a small supplement.