La famiglia Buja

1938 – 2018
Our First 80 Years
The history of the Hotel Antiche Terme Ariston Molino Buja is one of the most interesting and romantic tales in all of Abano Terme. The hotel has been through many incarnations: changing from Mill to Tavern, to Official Print-Works for the Supreme Command, and finally to our Spa Hotel!
Do You Know The Story Behind Our Hotel Ariston Molino Buja?
First mention of what became the Antico Molino of Abano Terme dates back to 1304. The original mill was owned by the Canons Regular of San Salvatore in Venice and was used by the poor "peasants of the surrounding area to grind their grain". The mill was powered continuously by the thermal waters that bubbled up naturally in Montirone and were channelled to the mill via a wooden aqueduct.
So our hotel stands on the same spot as an ancient Mill that was later also used as a Tavern.
An unpublished document from the period notes that in 1821 a total of "185 woodsmen applied for treatment" at the Mill.
This continued until 1888, when the old complex including the Mill and the Tavern was torn down to make room for a spa centre: the "Antiche Terme Molino".
During the First World War, the spa establishment changed its role again. Because the supreme command of the Italian army was based in the town of Abano, the building was soon requisitioned, becoming first a military Hospital and then the Official Print-Works for the Command itself!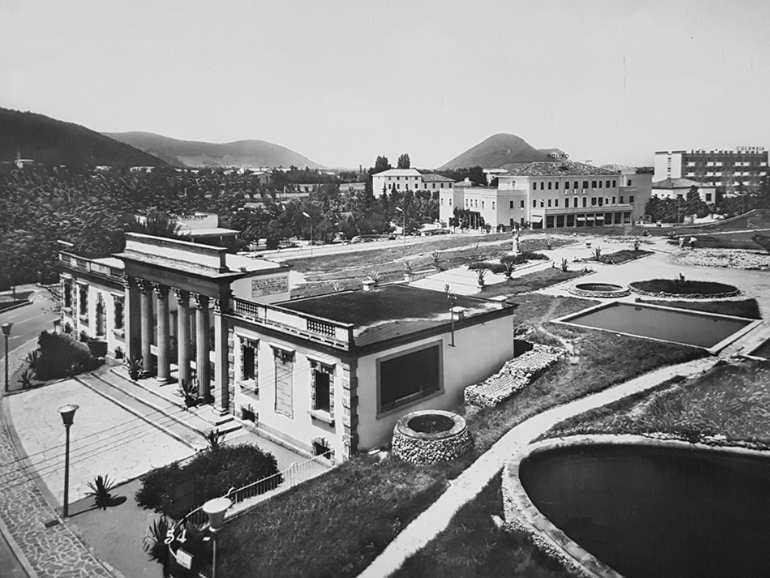 From The Spa Establishment To The Second World War/h2>
It is in 1918 that the story becomes particularly interesting: for it was right here that Gabriele d'Annunzio had the three-colour leaflets printed which he subsequently dropped onto Vienna during his famous flight on August 9th, 1918.
The building was later owned by the Monks of San Daniele, and by the Todeschini and Rebustello families, and then in 1938 was bought by Ernesto Buja, Giancarlo's grandfather.
Recognising the historical importance of this place, the Buja family decided to revive the previous tradition and run the business as a spa hotel.
In 1969, the old building was demolished and replaced by the Hotel as we know it today, a centre for spa treatments and well-being that was then far ahead of its time.